Lowest cost
Our refurbishment services are cheaper than buying new from the manufacturer and cheaper than regrind facilities with less down time and quicker time to service.
Least effort
We come to you to perform all services, typically within two weeks. We can get you up and running within one production shift per machine for typical repairs.
Reliable service
We have serviced and installed hundreds of ball screws at manufacturer's facilities to correct linear motion issues and understand each machine has its own set of challenges.
Services
We are specialists in on-site repair and refurbishment of NTC Laser Laser Cutter linear motion systems including ball screw assemblies and linear way guides. During a consultation over the phone we will troubleshoot your issue and follow up with a service request with travel and work estimates. Multiple machines may be discounted as well as travel shared with neighboring facilities if scheduled down time is flexible. We can come out and inspect your equipment within 3 business days in emergency situations.
Basic Services Include:
Ball Screw Repair and Refurbishment
Ball Screw Installation and Removal
Ball Screw End Bearing Replacement
Linear Way Guide Rail Installation
Linear Way Guide Block Repair and Refurbishment
We can perform inspections and service of linear motion systems in a variety of configurations including any of the following:
NTC Laser
Service Notes
NTC Laser Overview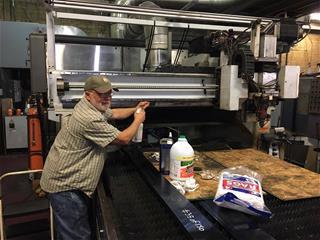 Steel protective cover is removed and the Y-Axis Ball Screw and Linear Way Guide Rails are being cleaned. Here the CNC motion components under the covers are inspected and checked for looseness.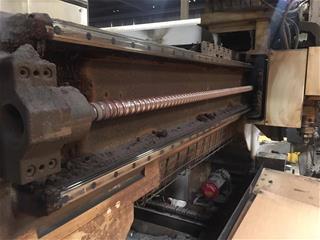 A common sight when the Y-Axis protective covers are removed off the NTC Laser. Because maintenance often does not removed steel covers and cabinetry for Preventative Maintenance, they miss how much dirt and industrial debris build up on critical CNC motion systems. The first step Ballscrew Guys makes is to clean off all of the components to inspect their condition and set them up for full refurbishment.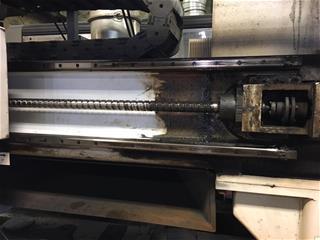 Image taken during the cleaning and inspection process of the Y-Axis. Here you can see the level of contamination on the motion systems parts. The motor side end bearing assembly is here. When dirt builds up to this level, end bearing service may indeed be required.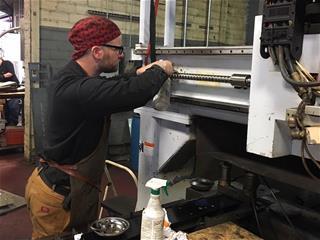 Here one of the Ballscrew Guys is refurbishing the ball nut on the ball screw shaft. Our technicians are trained to custom fit oversized machine tool ball bearings to match the raceway wear of your ball screw parts and Linear Way Guide rails and blocks. This allows you to get like new performance without waiting and paying for new OEM parts.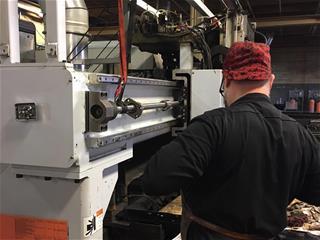 Here a Ballscrew Guy technicians is servicing both the Ball Nut and the End Bearing Assembly. After all the parts are totally cleaned and flushed, we rebuild the split style ball nut with new and slightly larger machine tool ball bearings. Eliminating backlash and slop, allowing your NTC to start cutting perfect round holes again.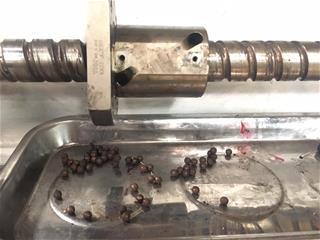 This Y-Axis had been running for years with a damaged lubrication line. This starved the ball nut of essential grease, accelerating wear of the ball bearings inside. The Lack of lube caused the bearings to heat up over time, causing them to loose roundness and flow. Causing the entire Y-Axis make a terrible cement mixer noise and cut terrible parts. Even this damage, these all steel, well crafted Japanese components were able to be completely scrubbed clean. Then refurbished to work like new again.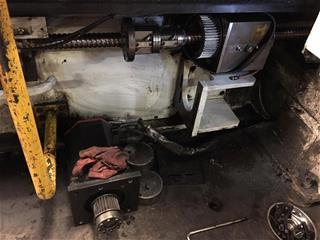 This image shows what the X-Axis service of the NTC Lasers entails. The THK Screw is a split nut type that moves the table back and forth by a belt driven fixed ball screw shaft. The ball screw drive pulley is connected to a heavy motor mounted underneath. This is a rather complicated assembly to get apart and rebuild. As not only is this refurbishment done on the floor, it is dirty and uncomfortable. If your X-Axis requires belt replacement, or an reserve extra installed to reduce future failure downtime, it requires a few hours of extra surgery and reassembly to be done properly. One of the addition drawbacks of this system, is that it has a rotation bearing gets most of the lubrication, with a passive amount finally reaching the interior ball nut. It is this reason why Ballscrew Guys suggests regular inspection and service of the X-Axis lube delivery system.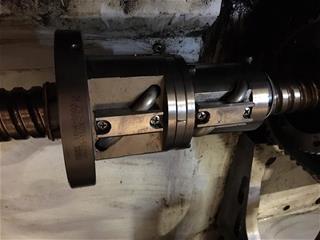 THK Split Nut Ball Screw found in the X-Axis of the NTC Lasers. This type requires distinct different types and sizes of bearings to work effectively, as both component halves have different functions in maintaining preload when they transverse the screw shaft under load. Ballscrew Guys stocks these components, plus all the potential oversized bearings to match raceway and track wear.